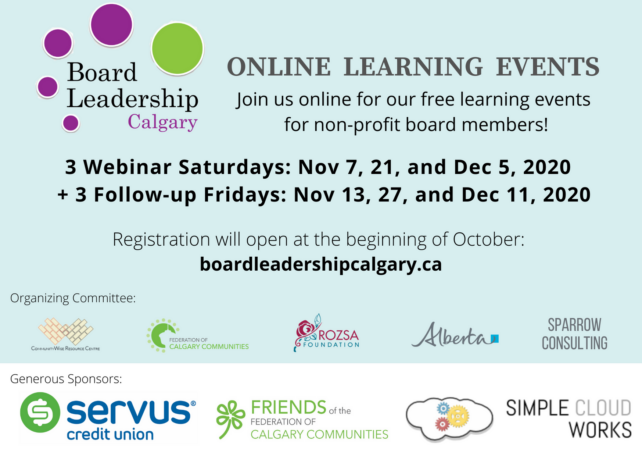 New to 2020
2020 has brought some interesting challenges to the Board Leadership Calgary planning team, but we are committed to providing high quality learnings for your non-profit organizations. Like previous years, the intention is to provide basic level learnings for board of directors, staff, and those looking to be involved in non-profit organizations.
This year's learning event will have a different format. We are spreading the learning to three different days of online webinars and three OPTIONAL "Follow Up Friday's" for networking and an extended Question and Answer period, following the topic of the week.
Costs
Free. As a thank you for your continued support of Board Leadership Calgary.
Please note that you will need to register for individual webinars and Follow-Up Friday's to attend.
Webinar Dates and More Information
Follow the links to register for each individual event and OPTIONAL Follow Up Friday
Saturday, November 7 at 10:30 am to 12:00 pm – Introduction to Essentials of Effective Partnerships
Saturday, November 21 at 10:30 am to 12:00 pm – Cash Flow Management in Times of Uncertainty
Saturday, December 5 at 10:00 am to 12:00 pm – Anti-Racism and Equity is for Everyone
Thank you to our sponsors for continued support of our event
Friends of the Federation of Calgary Communities

Servus Credit Union

Simple Cloud Works.
Visit our Facebook page for the latest information!